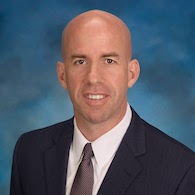 Adam graduated from the United States Naval Academy. From there, he served for six years in the United States Marine Corps as an Infantry Officer. He spent three years at Camp Pendleton, California, in the First Light Armored Reconnaissance Battalion, and then three more years at Quantico, Virginia as a leadership and tactics instructor.
After leaving the Marine Corps, Adam became a high school basketball coach and teacher in Charlottesville, Virginia. In 2000, he joined GE Medical Systems as a Six Sigma Black Belt and led process improvement, followed by a role on the Customer Education team at the Jack Welch Leadership Development Center in Crotonville, NY.
After leaving GE in 2003, he joined Bank One/JP Morgan Chase as the Manager of Executive Education. In 2004, he deployed with a Marine Corps reserve Infantry Battalion as a Company Commander to Lutafiyah, Iraq, about 20 miles south of Baghdad, as a part of Operation Iraqi Freedom. After returning from the deployment, he took on an HR Manager role within JP Morgan Chase.
In September 2005, Adam rejoined GE Healthcare and over the next several years, took on progressively larger HR leadership roles. As well, he served as a Co-leader for the GE Veterans Network, and as the leader of the HR Leadership Program for GE Healthcare.
In March 2014, Adam became the Chief Human Resources Officer (CHRO) at CHS, a Fortune 100, farmer-owned cooperative working to help America's farmers be more successful.
In June 2017, Adam joined the HR team at USAA, an association with a singular mission & purpose – to facilitate the financial security of its members, associates and their families. He resides in San Antonio, TX.