I was once in a group that talked about sharing "God sightings."  These are times when you can clearly see God at work in bringing people together or teaching us a lesson that we need to learn or something very simple like showing Himself through nature in such a profound way that it increases your faith. 
I recently had just such an experience.  I was speaking at several churches in the Phoenix area.  I love exploring new places and trying new places to hike.  I went for a walk one morning to explore the area.  I have an app on my phone called "All Trails" that will tell me the closest hiking trails from my current location.  I really recommend this app!  Anyway, I found a place called Hole in the Rock in Tempe in the Papago Park.  I walked from my hotel and went off to find the park.  
I arrived at the Hole in the Rock and took the short walk up the path to this beautiful view of Tempe and the surrounding area.  There was a young man there reading the Bible.  We struck up a conversation and he shared that his name was Aaron and he was a student at Arizona State University.  I told him that I was from New Mexico and he asked what brought me to Phoenix.  I told him that I work for a children's home in New Mexico.  With great interest, he began asking me about the work of the Home.  I shared with him about our 3 causes – Residential Homes, Adoptive Homes and Single Parent Homes.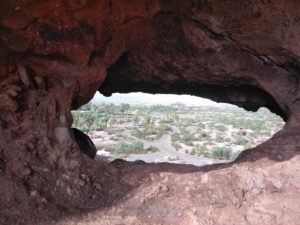 Aaron told me that he was an intern at his church (which was also a Church of Christ) and works with the campus ministry at ASU.  He expressed an interest in coming out to the Home with his campus group sometime to do a service project. 
As we were talking, another man who told us his name was Daniel came up to the "Hole."  Daniel stood back a little from us while we talked but was listening to our conversation.  I told him I needed to continue on my hike and Aaron asked if we could pray together before we parted company.  I said, "Absolutely!"  As we were about to pray, Daniel asked if he could join us.  We told him that we would love for him to join us. Daniel then shared that he had been having a rough time and just two days ago had prayed that God would show him that He still was with him.  He said, "I went for a walk this morning and here you two are!" 
We prayed for Daniel, for ASU students heading back to school and for God's continued blessings on the New Mexico Christian Children's Home.  We arrived as strangers, but parted as brothers in Christ and new friends.  It was truly a "God sighting!"  God chose this beautiful place on His earth to bring three men together for prayer and fellowship on a warm summer morning in Tempe, Arizona!
At the Christian Children's Home, I witness "God sightings" every day. 
·        In the prayer of a new resident in our Residential Homes.
·        In the smile of a child who feels loved and cared for by his/her house parents.
·        In the face of a single mom who feels the support of our staff as she receives the help she desperately needs.
·        In the joy of a new family as they adopt a child through our Adoptive Homes and become a family.
·        In the laughter of our children as they play on our campus.
God can be seen and heard and touched every day!