Sharnelle and Heather put on Christ!
Sharnelle has been in the Single Parent Ministry for about a year now.  She moved here with her four children from a transitional home in Carlsbad.  One of her children suffers from cancer of the eye but has received excellent treatment and help from St. Jude's Hospital and the Make a Wish Foundation.  She enrolled in the Single Parent program to keep her family together and get a new start on life. 
A few weeks ago, Sharnelle was in her duplex on our NMCCH campus and praying that God would send her someone to help her draw closer to God.  That very afternoon God answered her prayer!  Jim Tharp had recently moved to Portales to serve as our Campus Minister.  Jim came to address the spiritual needs of our staff, our children in the residential program and the parents and children in the Single Parent Ministry.  Jim, and his wife, Berangere have been actively working with our parents and children since their arrival here in July. 
The afternoon that Sharnelle was praying, Jim knocked on Sharnelle's door to introduce himself and ask if he could help her learn more about Jesus.   Sharnelle eagerly accepted his invitation to study the Bible and on Sunday, September 3, Sharnelle gave her life to Jesus by sharing his death, burial and resurrection in baptism. 
Sharnelle decided earlier in the week to be baptized but she told Jim and Berangere that she wanted to wait until Sunday because she wanted to set an example for others, especially the other single moms in our Single Parent Ministry.  God is raising up a new missionary to share the good news!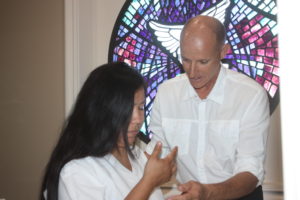 Heather is another one of our single moms in the Single Parent Ministry.  She comes to us from Texas and finds herself starting over with her young daughter after a terrible car accident that left her incapacitated for months.  She has been slowly recovering from her injuries but needed  a fresh start for her and her daughter after the accident. 
Heather is an accomplished singer who, in addition to many live performances, has also done studio work with George Strait, Larry Gatlin, Johnny Ray Watson, Cynthia Ellison and the Bee Hive Girls.  She has performed on stage for the CMT Austin, Texas Music Awards featuring Dolly Parton, Reba McEntire and many others.  Heather teaches vocal and piano lessons and has a passion for reaching people through music.
Recently, Heather began studying the Bible with Jim and Berangere and decided that although she has pursued a relationship with God for a long time, she had missed the opportunity to share with Jesus in baptism on her spiritual journey.  So on September 8, Heather put on Jesus in baptism!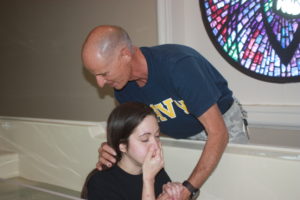 We are so thankful that Jim and family are here to help us in this ministry and to focus on the spiritual needs of our Home.  God is using Jim and his family in a powerful way to share the gospel and touch the lives of many!  Praise God for these recent additions to God's family!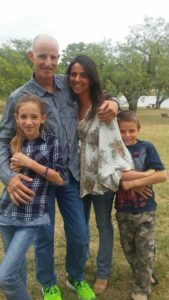 Jim, Berangere, Chloe and Owen Tharp